6 Best Branding Strategies (Brand Meaning & Differentiation Examples)
6 Best Branding Strategies (Brand Meaning & Differentiation Examples)
There are many branding strategies a given brand could use to stand out.
Some are ground breaking; some are innovative while others are more simply resounding.
Much of the role of the brand is to stand out and be remembered which is why strategy is so critical to success.
Most brands simply don't take the time to define their strategy. For those that do, there is an audience who wants what you have and are happy to give their attention to the difference you offer.

In this article, you'll learn six of the best branding strategies and examples to differentiate your brand.

What Is A Brand Strategy?
Before we go diving into nitty-gritty examples, let's get on the same page about what a brand strategy is.

A brand strategy is simply a plan for how the brand will approach the market and attract its intended audience.

Using market research and customer insights, the brand strategist uncovers and defines:
Who The Brand is
Who It's For
How It's Different
Why That Matters
How It Will Engage
By clearly defining these key elements, a brand has the ammunition it needs to resonate with its target market.
Why Do You Need A Brand Strategy?
Although I'm not a fan of answering questions with questions, in this case, it's merited.
Why does anyone need a plan for anything?
The reason is that success doesn't just happen. Although there is wisdom to be found in the idea of "The Law Of Attraction", nothing is wished into existence.

Anyone with a goal will tell you, that achieving goals isn't exactly easy.
It requires specific actions taken consistently over time with the idea that each action will take you fractionally closer to achieving that goal.

Brand strategy is no different.

For a brand to achieve its goals and realise its vision for the future, it must take specific actions consistently over time. In essence, the brand strategy defines these actions.
PRO

Brand Strategy BluePrint
Build Brands Like A Pro Brand Strategist
The exact step-by-step process 7-Figure agencies use to bag big clients through brand strategy

How to build brands that command premium fees and stop competing for cheap clients

How to avoid the expensive amateur mistakes that 95% of brand builders make to fast-track profit growth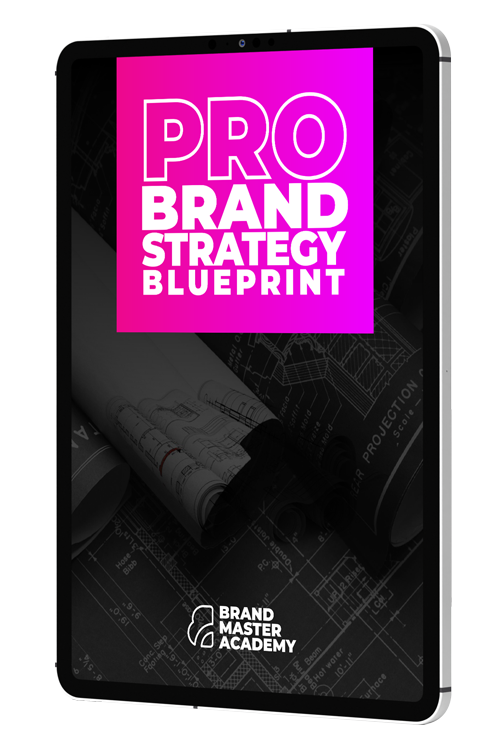 PRO Brand Strategy BluePrint
Build Brands Like A Pro Brand Strategist