The Creator Brand Archetype: Best Strategy And Market Examples
Creator Brand Archetype [Strategy + Examples]
The Creator Brand Archetype is the most imaginative and innovative archetype of the 12 Jungian Archetypes.
If you want your brand to connect through personality, you can leverage the creator archetype characteristics by inspiring or encouraging originality.
Some market sectors gravitate towards brands with a grand vision or brands that push boundaries.
If you're wondering if the Creator Archetype will help you to connect with your audience, this article will tell you what you need to know.
Who Is The Creator Brand Archetype?
The Creator personality comes alive when they're creating something that wasn't there before whether that's purely for fun or to achieve a greater purpose.
They believe they can contribute to their world to leave it better than how they found it by changing what's normal or expected.
They have a burning desire for creative expression and their mantra is:
Everything begins with an idea
The creator is often a perfectionist who resists sending their work into the world until it meets their level of approval.
Real creators seek originality and though they're the first to take inspiration from the work of others, they despise copycat's who plagerise.
The Creator Personality Key Characteristics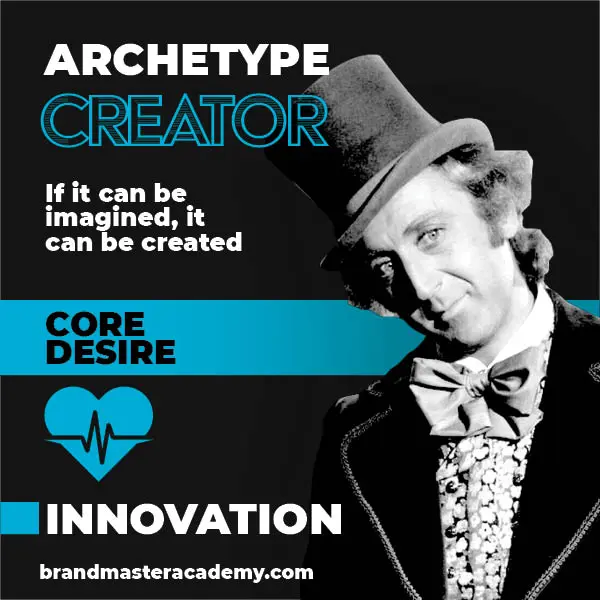 The Creator is driven by the core desire for:
INNOVATION
The Creator is constantly searching for or displaying:
Originality
Imagination
Expression
Vision
While they're contently running from and fear:
Stagnation
Indifference
Mediocrity
Duplication
PRO

Brand Strategy BluePrint
Build Brands Like A Pro Brand Strategist
The exact step-by-step process 7-Figure agencies use to bag big clients through brand strategy

How to build brands that command premium fees and stop competing for cheap clients

How to avoid the expensive amateur mistakes that 95% of brand builders make to fast-track profit growth